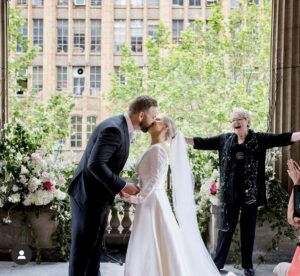 I met Sal way before I was ever engaged, in a nail salon, where she told me she was a celebrant.  Her presence and personality made such an impact on me that day, I decided that if I was ever going to get married I wanted Sal to do my wedding. I don't think we exchanged names the first time we met, but sure enough, as soon as I was organising my wedding I tracked her down on the internet and contacted Sal to be the officiant for our big day.  And thankfully she was available and said yes! It was the first decision that we made and the BEST one because from the very start of our communications, we felt so guided, prepared and excited for our wedding day. Sal is extremely organised and led us through everything step by step.  She brought my husband Shane out of his shell during a really stressful time, and I knew throughout it all that everything was going to come together on the day - Sal had our back! We even asked Sal if she would be able to conduct a hand-fastening ceremony during our wedding. She hadn't done one before, but at our next meeting she had done so much research and had so much knowledge on it, she was able to tell us what to do! Our ceremony was what we remember most about our wedding day.  We felt so happy, supported and surrounded by love thanks to Sal's magnetic personality and her abundance of warmth and care.  You had to be there, but there's only one word to describe it  - magical. And a massive thank you to Tracey for all her help with us and behind the scenes.  Sal and Tracey are the ultimate team and we are beyond grateful.
Chiara & Shane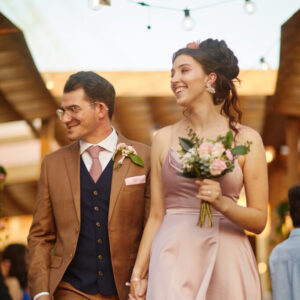 We had the absolute pleasure of having Sal be the celebrant at our wedding, and could not recommend her more. We always knew Sal would be the perfect celebrant for us. She is professional and organised, but she is also friendly and funny - simply a delight to be around! We had an intimate and simple wedding, and Sal and Tracey went above and beyond to ensure we had the best experience. Sal made our guests laugh, cry, and smile, and so many messaged us after the event to say how special the ceremony was.
Tessa & Jake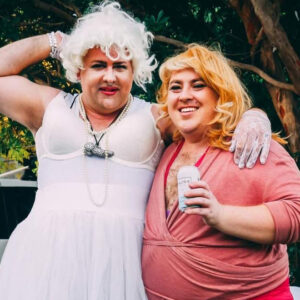 From the first phone call with Sally-Anne, we knew we had the right celebrant. Sal was so accommodating and easy to work with. As we are in NSW and Sal in VIC, we arranged our first face-to-face meeting at our chosen venue where Sal was able to share her wisdom to ensure we had the wedding day we wanted. Thanks to Covid, plans changed- we decided on a surprise Wedding masked as a Madonna themed Birthday. Not only did Sal say "YES! This is bonkers but I love it. Let's do it!" (we gave her 3-weeks notice) but she came dressed as Madonna with a Madonna mask and all. To say we had a memorable Wedding is putting it lightly. Our friends and family were caught off guard, tears from our parents, cheers from 90 year old Nana and truly the best day we could've hoped for. Sally-Anne is the best in the Biz!
Luke & Grant
Sally-Anne Upton was our wedding celebrant in November 2021. Sal gives from the heart and it was an absolutely beautiful experience to have her plan and conduct our ceremony. We feel so fortunate, (actually I'd say "blessed"), to have been introduced to Sal. She emanates warmth, kindness and genuine care. She promises a ceremony with heart and soul and that is what she gives and more… even before you get to the big day itself. Sal went above and beyond any expectations we may have had. We felt safe and supported as we navigated the process of submitting paperwork, planning the ceremony and a myriad of details that would be overwhelming otherwise. Her efforts make the process and not just the day, special. There is a level of care and attention to detail, an ability to deal empathetically with people while getting the job done which makes her truly gifted at what she does. On the day, Sal gave us an unforgettable and unique ceremony. She and the fabulous Tracey work as a coordinated team to make sure that everything runs smoothly. Our wedding ceremony was not only special to us, friends and family have been constantly remarking on what an outstanding celebrant Sal is, with many saying she is the best they have witnessed. She touched everyone's hearts and made our day special beyond words. We can't thank her enough and highly recommend her.
Katrina & Suazo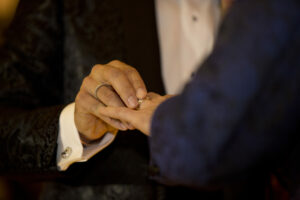 What can we say about Sally-Anne Upton. Thank you is just the beginning. From our initial meeting until going live, Sally was paramount in delivering our story into reality. Sally's approach was welcoming, dignified and very comfortable. Conversation flowed freely as Sally invested time to connect and understand us and our story. From a legality perspective Sally made the process easy and flawless. She was engaging not only with us on the day but also our guests, never losing sight in keeping them attentive and entertained. They to spoke very highly of you. You're amazing Sally and couldn't think of anyone else too deliver what we were seeking. We love you and highly recommend you.
Sam & Mark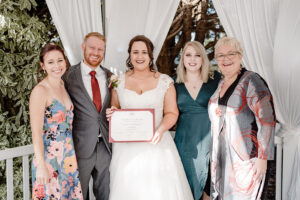 Sally-Anne was an amazing celebrant who looked after us from the very start. No question was too silly and no task was too hard for her. From the very first meeting we had with her, we knew we had made the right choice! We could talk about the wedding but we could also have a good laugh with her, Sally-Anne always made us feel comfortable and like we were family! We had so many compliments on our big day about how amazing she was and they all really enjoyed how she did the ceremony! We literally can not thank you enough Sally-Anne, you truly made our day unforgettable and we will be forever grateful for how special you made our day.
Adam & Roxanne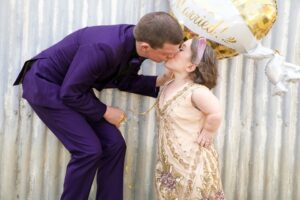 Sal embraced our craziness to help make a special day into what many of our guests described as "the best wedding ever".
Emma & Ryan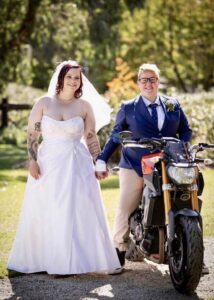 Sally-Anne helped make our day as special as we were hoping it to be and more. She was definitely a memorable part of our ceremony with our family and friends commenting on how great she was. Sal also assisted us with the uniqueness of our day which included both a motorbike and a 1960's Batmobile, making sure everything ran smoothly. We can't recommend her enough as a celebrant!
Nat & Shellyce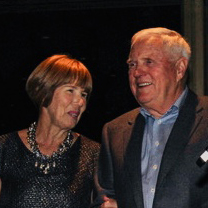 Sally-Anne was a fabulous choice for our surprise wedding a few weeks ago. She is very flexible, as we wanted a simple ceremony, but serious in the appropriate moments. She is funny, charming and involves herself totally in the occasion, but not intrusive. She delighted us with a short poem she had written about us and her organizational skills are outstanding therefore the wedding went without a hitch!! Thank you so very much Sally-Anne.
Carolyn & Kevin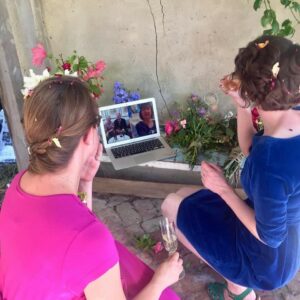 Thank you for the lovely wedding ceremony yesterday! It was fantastic to join it here in Sweden via internet. We do appreciate your patience with that. It was a beautiful moment filled with love and joy thanks to your professionalism and empathy!
Lars & Gun-Marie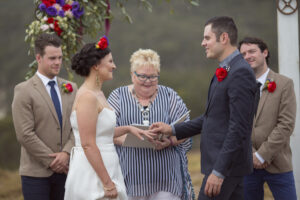 As soon as we met Sally we knew she was the perfect celebrant for us! She was relaxed and welcoming and made us feel like we were chatting with a friend. Her attention to detail was incredible and she knew exactly what questions to ask to really get to know the two of us. The ceremony was amazing and truly one of our greatest memories as it reflected who we are and our love for each other so perfectly. I would definitely recommend Sally for any event as she makes the process not only easy but also very special!
Lilly & Tim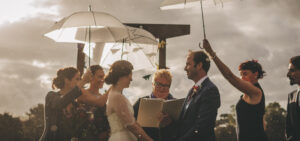 We cannot recommend Sally Anne highly enough. She was always extremely warm, fun, and generous, and had our best interests at heart throughout the whole process. Weddings are intense - knowing that Sal was there and looking after us was a great comfort.
Meg & Daniel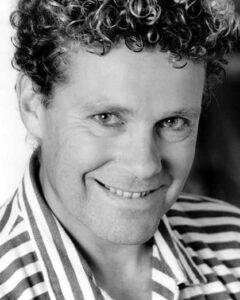 ROBERT JAMES LYON. 15/04/1956 – 02/09/2014
Sally Anne has played a pivotal role in two very significant occasions - our 25th relationship anniversary in 2009 and then five years later, the funeral for my late husband Rob. Both times, Sal was more than a celebrant on the day. All of her work prior to the day, the thoughtfulness, the research, the pulling together of threads - be those threads people or stories or music - meant that each of those occasions were celebrations in every way. Sal has a way of reaching out to people in times of significance - be those times happy or sad- to make the journey easier, fun, enjoyable or bearable. She has insight, warmth, intuition and tremendous compassion. She is like a universe that has your back. She honours you, your friends, your family and your story - be that at the beginning of a journey - or the end.  I will be always grateful to Sal for the memories she helped create of those two occasions.  In particular, her involvement and her role helped me, my sons, my friends and my family - in the healing journey on the tremendous sadness of the passing of our dear one, Rob.
x Victoria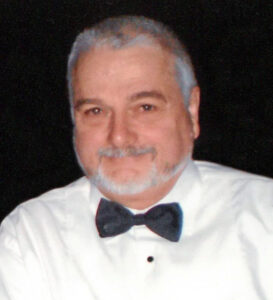 DENIS NORMAN SETCHES. 20/01/1942 – 04/02/2017
Everyone desperately needs and wants a wonderful last farewell to their beloved. Sally-Anne arranged and delivered a double barrelled service for our family... she understood the farewell we wanted for Denis, my husband. Morning service at the local cemetorian for 30 people family and close friends. We moved the pews into a circle around the coffin and we all decorated the plain cardboard painted coffin. No religion was involved. In the same afternoon, a very public service at the Karilica centre at Ringwood where hundreds of people attended and they enjoyed the service. There was a welcome to country by a local aboriginal elder with a smoking ceremony. Mourners/speakers include Bill Shorten the Then leader of the Federal opposition, and John Cain the former Premier. This remarkable day long service couldn't have happened without the organising skills of Sally-Anne. This goodbye to Denis was lovely and so appropriate to how Denis lived and believed. And Sally-Anne made it not only happen but be a wonderful success.
Kay Setches Am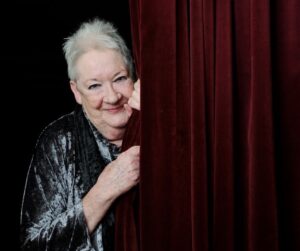 ANNE MARY PHELAN, OAM. 02/08/1948 – 27/10/2019
Sally-Anne I would just like to say "THANK YOU" for the effort you made to bring together such a huge production as Annie's funeral. It was a great celebration of her life, she would have loved it. The family really appreciates how you were able to blend family, friends, and Annie's acting fraternity together and make it so personal. IT WAS A PERFECT DAY!
Jenny Broderick