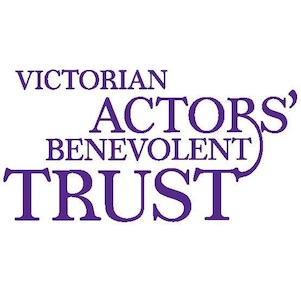 In our profession, actor and crew employment is so unpredictable and transient, and most of the time we are jumping from one project to another with large gaps of unemployment in between. We don't accrue sick leave, holiday pay, or superannuation to fall back on, so when someone in our community finds themselves in times of crisis or hardship, the VABT steps in to provide emergency financial assistance to those who, through poor health or ill fortune, find themselves with nowhere else to turn.
Actors and crew are always the first to put up their hands to donate their time to different charities, events, or disasters, but when they find themselves in times of crisis, they have nowhere else to turn except the VABT.
We are a registered non-profit charitable organisation and, rest assured, your donation, no matter how big or small, will go toward assisting actors and crew in need!
Sally-Anne Upton, as you can see from this website, is a multifaceted talent.

She also is one of the most generous people I've ever met.

She has served on the Committee of Management of the 'Victorian Actors' Benevolent Trust' (VABT), for twenty-four years, and as President for over thirteen and a half, of those years.

The VABT is a Charity that helps actors' and crew in times of need by providing emergency financial relief to those artists, creatives, and crew from across the theatre, film, and television industry, who may be suffering from ill health or a medical emergency.

The time I have served under Sally-Anne, included the Covid pandemic, this created unforeseen amounts of work, especially during the challenges of the Melbourne lock downs. Sally-Anne was a steadfast and resolute leader and we are all proud of how she helped many, many actors and crew. She was a the helm of establishing the COVID-19 Assistance Fund to provide immediate assistance to performing arts workers who were struggling as a result of the ongoing impacts that the pandemic had, most of whom were not eligible for any government assistance. To date, the VABT under Sally-Anne's guidance is proud to have provided over $170,000 worth of Food Vouchers to artists and crew, through this dedicated COVID-19 Assistance Fund.

Sally-Anne is always open, straightforward and honest and her wicked sense of humour is great fun. She is well informed about our acting community and no matter how busy her own life is, she always makes time for you.

The committee is very sad that she has stepped down and she will be greatly missed. But Sally-Anne has impeccable timing, so she has always known how to exit the stage … leave them wanting more.

Dina Mann VABT Committee Member